FINE ART, ANTIQUES & COLLECTIBLES MANAGEMENT
We are Estate Appraisal and Liquidation experts. Specializing in fine art, antiques and collectibles. 
You too can have access the best selection of unique furniture and decor from all over Flagler and neighboring counties - coming from our network of Real Estate professionals who request us to hold estate sales on weekly basis.
SHOP ON OUR ON LINE EBAY STORE - DIANAGODDESSOFTHEHUNT Click Link Below:

Visit our Palm Coast Gallery:
15D Palm Harbor Village Way
Palm Coast, FL 32137
Mon - Sat, 10am - 5pm
CALL: (386) 237-3233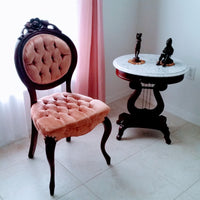 5 Reasons to buy antique vs mass produced furniture
"New things are undoubtedly lovely – untouched, modern and smelling of the factory floor. However, furnish an entire home with new pieces and the result feels like a showroom, completely lacking in soul and personality. Worse still new things can quickly become old, and at the rate styles change, dated as well.
In our disposable age think how refreshing it would be to buy quality furniture with inherent character that instead of ending up in landfill may actually increase in value." - ALEXANDRA FISHBURN
Continue Reading
We hold Estate Sales in Palm Coast.
Diane is a professional with a respected background. I had a big problem, Diane provided the perfect solution. I bought a house, including contents - cars, clothes, furniture, artwork - everything. My community does not allow Estate Sales. The house was going to be renovated and I needed it empty in a few weeks. I interviewed several "Estate Sales" professionals, but Diane provide the best proposal.

Midge Scelzo
I have used Diana Minotti Fine Art for both personal and business solutions. She has enabled my small local company to furnish our office with quality item otherwise out of our budget as well great solutions to temporary staging needs. Personally I have found fantastic items at estate sales for great prices. Plus I have a list of items I would like to find and they notify me if they have them on a sales inventory! 

Supreme Steamer
Hands down the most professional in the business in the area. All other  sales are only garage sales... Minotti holds an event! There is a tremendous amount of work she puts into every estate sale and at her 5,000 sq ft gallery. Every item is inventory and appraised by her team down to the very last screw driver in the garage!. She continues to improve and maintains all of her qualifications. Local, family owned and operated.

Flagler M.
Click Below And Visit Us On These Sites